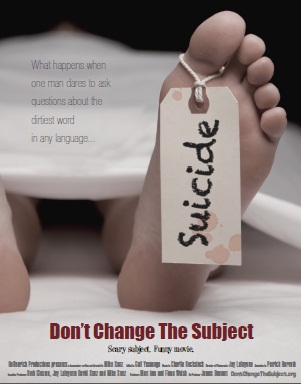 NYC Icarus - Film and Discussion: Mike Stutz's "Don't Change The Subject"
Join us at Bluestockings on August 3rd, 7pm for a viewing of a film and discussion of suicide.
This month NYC Icarus will host a screening a film and discussion about suicide on August 3rd at 7pm at the Bluestockings Bookstore and Activist Center. A question and answer session will promptly follow.
this month we will be screening a recent film about suicide called "Don't Change the Subject" by Mike Stutz.
Content warning: It has talk about suicide, descriptions of methods, cartoon, animation, jokes about the subject
Join us at Bluestockings August 3th, 7pm for a viewing of first hour of the film and then a discussion about the topic of suicide from any angle people want. (we regret doing this the 98 min full version was too long and folks can view the entire movie online: http://www.dontchangethesubject.org/ )
We can also talk about our previous months video project called #FirstResort which was about creating videos for people in emotional distress as ways to avoid suicide. ——————————————— Crowdsourcing for Projects In Action - #FirstResort https://www.facebook.com/events/1043170469083794/ http://nycicarus.org/events/first-resort/ ———————————————
Facebook event: https://www.facebook.com/events/984060211711065/
Hope to see you there!
Mad love,
Icarus Project NYC…
---